GenXXL – AXIO – Syntrop – Biogen and their offspring
Brian in Ireland
Irish authorities convicted Brian  Wainstein of distributing steroids in 2003. Canadian authorities issued an arrest warrant for Wainstein on steroid distribution and conspiracy charges based on involvement with GenXXL in 2006. Wainstein has since been publicly linked to another underground lab Axio labs in 2008 and 2009. Wainstein is clearly on the steroid most wanted list. Law enforcement is most likely aggressively pursuing any and all identifiable co-conspirators of Brian Wainstein as well.
Brian Wainstein, one of the owners of GenXXL(website, discussionform and steroids Underground Lab), served 4 months in prison for the unlawful possession, sale, and distribution of anabolic steroids. Wainstein served only four months out of a 2 year suspended sentence. He pleaded guilty at Dublin Circuit Criminal Court to nine charges arising out of the unlawful possession sale and distribution of the illicit substances at 27 Croswaithe Park South, Dun Laoghaire, Dublin in 2003. He received the orders for the banned drugs by e-mail from customers all over the world, including the USA. He used the name 'Barry Benjamin' on his email messages. Illegal steroids valued at €15,000 were recovered at the Dun Laoghaire premises on September 16, 2003
The address from which Wainstein distributed anabolic steroids was the same as the publicly published address listed online. Axio Labs has been publicly linked to Brian Wainstein and GenXXL.com for some time, both before and after Wainstein was busted. Recently, Axio Labs has also stopped shipping anabolic steroids to the United States Ireland doesn't extradite to the USA. Brian  served his time starting  July 30 2007.
Brian in Canada:
Glen Donald England just planned to lose weight until he met Brian Wainstein who got him hooked into a million-dollar steroidtrafficking. In West Edmonton a surveillance that lasted 18 months and ended in October 10, 2006, that led to the seizure of England's international drug business. Police nabbed him when they were able to gather enough proof that he had been manufacturing and distributing steroid tablets that was worth millions of dollars. Together with the  Canada Border Agency they raided England's apartment believed to be an underground laboratory for the  steroids He now pleads guilty to steroid possession and trafficking.
From The Edmonton Sun:
Police found more than 200,000 steroid tablets, with a street value of between $400,000 to $600,000, 23.5 litres of steroid oils valued at $235,000, $50,000 in cash and packaging materials England used to distribute the illegal goods. There was also evidence found linking England to Irish steroid king Brian Wainstein, including itemized steroid orders on Wainstein's website, names and addresses of customers, courier delivery receipts, phone records, money transfer receipts and computer text messages.
According to the agreed facts, between Feb. 7, 2006, and Oct. 30, 2006, England was in possession of 640,000 steroid tablets and 37.7 litres of steroid oil, valued at from $1.6 million to $2.3 million, that were sent by Wainstein.
Detective Ken Brander devised a modus operandi that got him in contact with Wainstein. They discovered a package containing the steroid tablets that had been sent by Wainstein. The tablets were replaced with sugar and Brander attached a note to the recipient wherein he left contact details saying if more stocks were needed he should be contacted. The police established contact with the steroid dealer that sent steroid ingredients believed to be valued at $2.5 million to $3.5 million.
Prosecution is asking that England be given 30 months of jail term while defence appeals that he serve 18 months in the community and be fined.
Brian in Cypres:
December 9th 2010  Cyprus Mail – A 43 YEAR-OLD former taxi driver and two Pakistani nationals he employed were remanded for eight days yesterday, on suspicion of manufacturing, storing and distributing prohibited substances.
The 43-year-old's parents aged 72 and 71, who were also arrested were released after no incriminating evidence was found against them.
The former taxi driver however admitted his involvement to the Nicosia district court.
"Yes I produced anabolic steroids" he said.
He then went on to name an Israeli man who allegedly served as his liaison with a huge international drug distribution cartel.
The two Pakistani men denied any involvement in the case but were implicated after the police found documentation incriminating them at one of their homes.
The men were arrested late on Tuesday night after large quantities of raw materials that could be used to manufacture illegal anabolic steroids were located in a laboratory during a police raid in Nicosia.
Cypriot police launched multiple raids on locations around the island yesterday, while similar simultaneous operations were also launched around Europe and in the US
December, 8th, Cyprus Mail – FIVE PEOPLE, including a pensioner couple and their son, were arrested yesterday after substantial quantities of raw materials that could be used to manufacture illegal anabolic steroids were located in a laboratory during a police raid in Nicosia.
The couple, aged 72 and 71, were expected to be released after questioning, police said.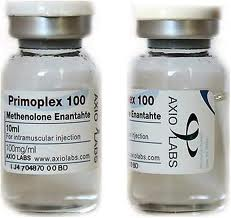 Their 43-year-old son and two foreign inividuals, 25 and 32, will be brought before a court today for a remand hearing.
Police spokesman Michael Katsounotos said there was some concern that if, as police suspected, steroids were being manufactured at the warehouse, that they were being distributed around the world from Cyprus.
After receiving information from Germany recently, Cypriot police launched multiple operations around the island yesterday, while similar simultaneous operations were launched around Europe and in the US in an attempt to crack down on illegal anabolic steroids.
Katsounotos said: "At 8am a raid was executed. We issued a total of seven search warrants for premises for which we suspect were used to manufacture, store and distribute prohibited substances."
Katsounotos said that simultaneous operations were launched in Germany, Austria, The Netherlands, France, Spain, Ireland and the US. According to Katsounotos the operation was coordinated by the German police.
Katsounotos said that in six of the premises no illegal substances were found. However in one, believed to be inside Kronos Commercial Centre in Latsia, Nicosia, large quantities of raw materials were found which could be used to manufacture prohibited drugs, namely anabolic steroids.
Katsounotos said: "All the materials and documentation found on the premises have been confiscated and sent to be analysed by the state laboratory."
He said that from documents confiscated it appeared that the alleged steroids were exported abroad. However he could not rule out the possibility that some were released into the Cypriot market, he said. "We need to carry out further investigations" Katsounotos added.
Responding to questions as to whether any arrests had been made, Katsounotos said: "The manager of the laboratory is out of the country, he is wanted for questioning. As soon as he gets back we will speak to him. We are still in the initial stages of our investigation."
Brian in Germany:
The following is taken from the German magazine "Focus". Although this bust happened in Cyprus, it was orchestrated by German law enforcement officials.
Axio Labs, for anyone who doesn't know, is owned by Brian Wainstein, the same man who owns GenXXL. GenXXL started out as a distributor of various other steroid brands, primarily British Dragon, until the retirement of that company, when GenXXL started selling their own house-brand of steroids.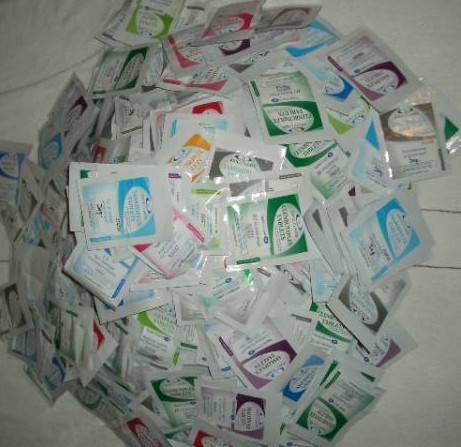 As you can see, I was correct when I said that Axio/GenXXL were busted. As you can also see, the bust was very large, both in terms of dollars, and in terms of the fact that Axio's computers are now in the hands of law enforcement. Axio's database contained more than 190,000 customers, going back to at least May of 2008.I don't know if this is the end of Axio or GenXXL as we know it, but as you can see, 100% of the forum reps who have been saying there's nothing wrong, and that they weren't busted, have been proven incorrect.
This is not a server error. This is not a hardware error. This was Axio and GenXXL getting busted because of their own stupidity, for the third time.
FOCUS 50/2010 International doping ring smashed – GenXXL sales anabolic steroids, growth hormones and Saturday, 12/11/2010, 09:00
Munich. With a raid around the globe, the Federal Criminal Police Office (BKA) the public prosecutor in Bonn and foreign judicial authorities, have broken an international ring of drug dealers. The news magazine FOCUS confirmed the Bonn public prosecutor Robin Faßbender the action was, but did not comment on details.
According to FOCUS, please identify the Rhine anti-doping since May 2008 against an organization called "GenXXL" which owns web sites to illegally sells anabolic steroids, growth hormones and sexual enhancer   in all continents. In addition to traditional GenXXL means they sell products to mask the use of anabolic steroids or attenuate the side effects.
The investigators discovered  at the 32-year-old sales manager Ibrar GenXXL B. alone, a database of more than 190,000 customers. The buyers had ordered products since May 2008 with a value of 12, 5 million U.S. dollars. The suspect, who is, according to the BKA as responsible for the shipping of doping substanceswas put into custody.
Brian in France
The French police, working with German authorities, have busted an international steroid ring operating out of Marseille, France. The now-busted steroid dealers were working in connection with branches in Cyprus, Turkey, and China. These recent arrests have come as part of a worldwide operation carried out on December  2010 on GenXXL/Axio Labs/Synthrop/Biogen. France was considered "safe" by many GenXXL/Axio customers in the United States, as it is not one of the countries (mailing addresses) we perceive as overly scrutinized by the postal service. It was a perfect country to mail steroids to Canada from, due to the large percentage of French Canadians.
It was very bad news for many European sources and North American remailers, all of whom used Bank Wire's to pay for Axio's products.
The group sold anabolic steroids over the Internet in Europe and the United States, counting nearly 10,000 customers in France alone, accourding to the French Sports Ministry.
A judicial source said the group had nearly 200,000 clients in Europe for its steroids. Three people from the southern French city of Marseille have been put under judicial investigation for their part in the ring, which obtained the drugs from labs in Cyprus, China and Turkey, the source said.
Large sums of money were discovered at the homes of two of the men and investigators believe that the operation was making 1,000 euros (849 pounds) a day in Marseille alone.
An international police sweep was carried out against the ring on December7th and investigators have also uncovered money laundering operations in Germany and the Netherlands.
Brian in South Africa
Brian has the South African nationality, there one of his nephews, that uses the nickname  "Rocky," runs his steroid business in SA . Its a group of (very) tough guys and untill now they work underneath the radar. I would really like to know for how long?
How it works
In a quickly changing market people that became into the know how international steroid marketing via the internet works safely join forces. Its mostly a group of people that already owned or still owns an underground lab, most groups work under a dominant leader, just like we saw of the British Dragon under Ox (Richard). These combinations mostly end in dispute. More recently the combination Naps – Axio – Syntrop. Axio was an offspring from GenXXL gear. Axio stayed in possession of all mentioned names and continued with New Axio. Naps started Geneza Labs and the Israelian Syntrop owner changed the name of his new lab to Sciroxx. The reason for this breaking up is mostly the fact that the biggest ego decides to take over and secures his financial interests.
When this whole Axio project started the leader Brian Weinstein insisted on following the instructions of his Israeli chemist ( some know as Dr. S. or Karlo). This chemist introduced his formula where instead of Benzyl Benzoate (BB) high grade Ethanol was used in the recipe as a solvent. This is why Axio always smelled like rocket fuel by the way. The first batches of Axio were excellent and contained the high grade ethanol. These  formulas were developed for optimum results of the product, any bio assay test will confirm it.
100% Ethanol is a very explosive material, it was not available on the local Israelian market and had to be imported just like the first batch. This time the airport security did not allow it on the plane and they could not import it. This is the reason why Ethanol alcohol was replaced by Isopropyl alcohol in the formula. Nothing new for the chemists, Retabolil by Ghedeon Richter is using 20 percent Isopropyl alcohol , the whole BM line (India) is using 20 percent Isopropyl alcohol too. In Axio isopropyl alchohol was used at lower levels.  Apparently this Isopropyl batch made the gear very painful. BM  (India) is having exactly the same problems. At first they thought it was an filters and sterility issue, but the tests showed the oil was sterile. Only after the chemists insisted on using BB instead of all the alcohols, the gear came back to normal. Brian never listened to these facts though. Syntrop was using Ethanol as well. I see it as one and the same problem they faced. Both know same chemists in Israel. Geneza is absolutely painless, Benzyl Alcohol and Benzyl Benzoate are used only. Some labs still use ethanol but changed the declaration on the label to Benzyl Benzoate because the use of alcohols in injectable steroids is unknown to some end-users and therefore unwanted. To be sure if ethanol is used you can smell the products, ethanol has a  typical sweet taste which is of course changes from product to product.
Due to this dispute some people felt abused and gave us there opinion. Where one person involved blamed the isopropyl alcohol an other thought otherwise:
If you ask for my opinion then too many parameters were problematic  in the Axio product (and most probably later on with Syntrop ­this is the same shit as you know) ­ from using wrong filters,  making mistakes in the calculation of the different ingredients in the formula in practice, using low grade solvents which were bought somewhere in Moldova, not to mention that Brian shippers fill the  vials in place…. Oh my god it's unbelievable …. They do it like you fill a glass of beer in a bar … but as I said I have no clue what exactly went wrong there, I've never tested his products either.
If you feel no affinity with the product you are manufacturing, but only are in it for the money, you'll never be able to stay in this market. It will lead to disinterest and questionable products.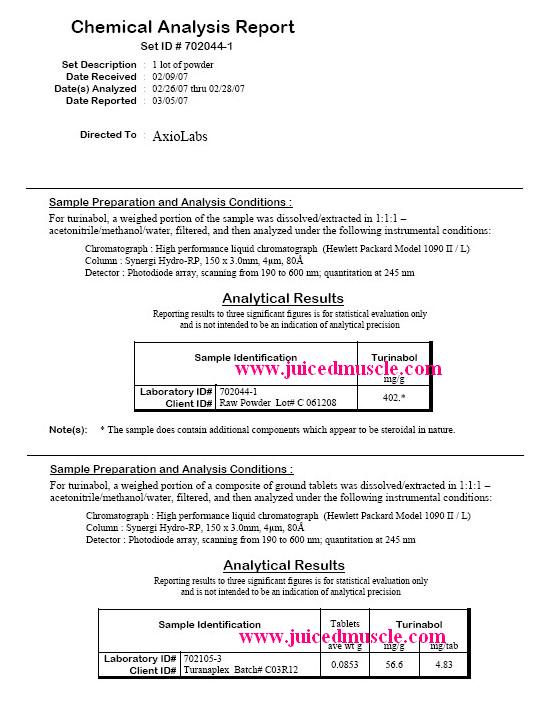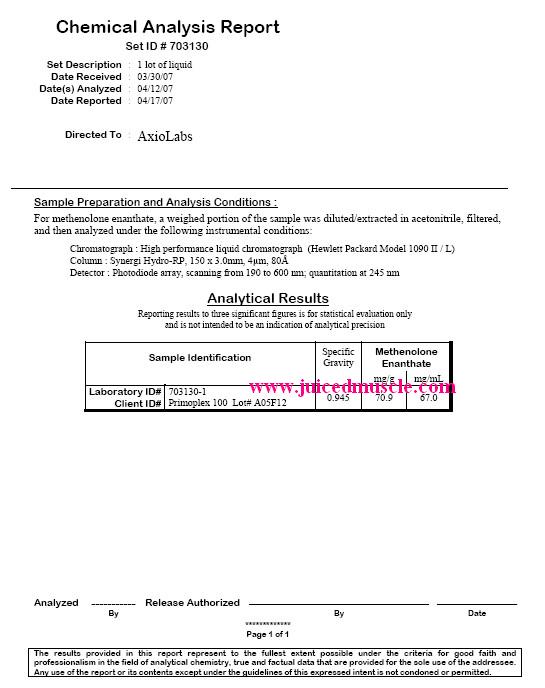 An other source sent us many raw powder analyses that where not published before (for obvious reasons). It showed very bad results.
If you use an API like by example Testosterone Cypionate that is only 73% real then, in order to meet the required 200 mg/ml, you'll be forced to use 274 mg/ml to achieve the 200 mg/ml active ingredient (Testosterone Cypionate). That does on the other hand mean you are high dosing on the powder and you cant be sure with what the raw powder has been cut. The overdosing of the unknown powder is 38% of the total powdermass.
May be you remember the first batch of Turan was 5mg tabs. It was because the API was 40% only and we got 5mg tablet instead of a 10mg. See SRCS analyses on the left. Turan tabs tested 4.83mg and raw 403mg/g. The chemists were always overdosing by 5%.
I own more SRCS reports of other AXIO bunk raws. I.m.o one of their major problems just like sterility.
Now Axio has HPLC and standards and can test and dose the gear properly, but the point is they are still getting raws from the same place and if they still do cypionate from 70% raws this may be the main reason the solution looks like emulsion.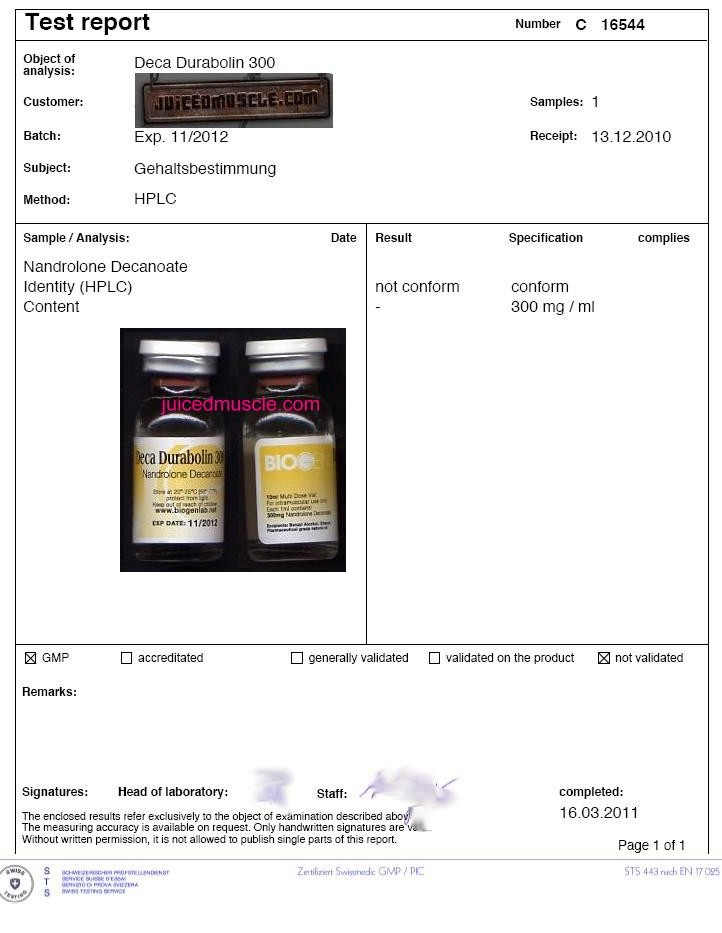 Before these busts where taking place, I received two samples of Biogen that where meant for private analyses.  After a while when I lost contact (now obvious) I decided to analyse the samples anyway. They where bunk. Like we saw in this review, "Brian" has trouble finding good quality bulk API's (raw powders).
Biogen was a new branch to their business as  a replacement because more and more clients lost faith in the quality of New Axio- Synthrop.
They surely would have lost faith in this new brand soon, as analyses show.
//juicedmuscle.com/showthread.php?2113-Biogen-Deca-Durabolin
//juicedmuscle.com/showthread.php?2094-Biogen-testosterone-400
Brian WAINSTEIN ARRESTED In Cape Town, RSA!!!!
With Brian Nomads Lab (ran by the biker gang "Nomads) went down also.
And a Brians nephew nicked "Rocky" involved also in the sales recreational drugs and a member of a criminal organisation and the "muscle" of Brian is arrested too.
This is to inform the public of the arrest of an international fugitive by Cape Town CIPS with the assistance of members of the Flying Squad that tookplace on the night 5 January 2013. Earlier information received from a reliable source regarding a suspect who was listed on the INTERPOL wanted list, was pursued by CIPS members and after further investigation and contact with local INTERPOL (PTA) the suspect, Brian WAINSTEIN (aka Ben Benjamin) -ID.NO: 650210 5208 085 was arrested at his multimillion Rand hide out where he has been living an hedonistic lifestyle in the Cape Town Waterfront (C10, Juliet Marinas, DockRoad, Victoria and Alfred Waterfront, Cape Town). The arrest was expedited as information received indicated the suspect's imminent intention to leave the RSA. Brian
WAINSTEIN had applied to the South African Home Affairs Department to have his surname changed on his Identity Book which would have enabled him then to apply for a new RSA passport, thus he would have been free to travel the world and not risk being arrested under the numerous warrants that have been issued against him Internationally.
He recently travelled to Johannesburg, where he is not known, to find a lawyer that would help him fast track the process of acquiring a new ID Book.
In the USA, where there is also a warrant for his arrest, Brian Wainstein went under the alias Trevor Thornton. His ex-wife has recently been released from jail on parole in the USA, it is not clear at this point in time if she was convicted under similar charges.
The suspect Brian WAINSTEIN is an SA citizen and is wanted in several other parts ofthe world as he was allegedly involved in the illegal distribution of huge quantities of steroids world wide and therefor his appearance onthe steroids most wanted list. He was previously arrested, charged and found guilty in the Dublin Circuit Criminal Court.
He has been released on a bail of R500'000.- , and he is currently still residing at his flat in the Waterfront, as well as reporting in person to the Sea Point SAPS daily to sign the "bail register". The case has been remanded to 8 February 2013 at the Cape Town Magistrates Court.
With the help of his attorney Brett Carnegie, he is currently fighting his extradition to Nicosia/Cyprus, which issued his warrant of arrest through INTERPOL. In order not to be deported and/or serve any jail time, he will try to enter a plea bargain with the prosecution by agreeing to plead guilty and turn state witness, in exchange he will disclose all information regarding his past and present business associates. The suspect Brian Wainstein has also hired the services of a personal bodyguard, no doubt to protect himself from his associates and other people that will want to keep him silent. He has recently removed his number plates from his dark blue BMW 750 Li, which he had personalized and registered as "SHAMROCK WP". It is believed that he might have sold that car and went and bought himself a new identical model, a new BLACK BMW 750 Li, with registration CA 966987.
Brian WAISTEIN owns several properties in and around Cape Town, one of which is situated in the up-market suburb of Constantia.
Update: He he has recruited a criminal defence lawyer called Maharaj, and believe or not, he has applied for asylum in Zimbabwe!
Diskutera artikeln på: https://www.body-mass.org/viewtopic.php?id=11855

Views All Time
3786

Views Today
2